5 Tips to Manage Stress and Stay Healthy
The very common sentence we use in every second of our life is "Keep yourself calm and don't be stressed". But, many of us feel difficult to follow this mantra. Stress from the workplace, relationships, family, etc. can leave you crazy and at times out of control to manage the situation. Occasionally wrapping yourself under pressure is good during your exams or while on work deadlines as it stretches you with energy to complete it effortlessly. But, too much of stress can lead to health consequences like hypertension, increase heart rate, anxiety, depression, overeating, obesity and also it affects the immune system, central nervous system and cardiovascular system.
To keep our anxiety under control let us incorporate a few tips that can help us to manage stress and to stay fit and healthy! If you are severely stressed consult your health care provider. He can prescribe medications to help fight back your stress level. Now search your prescription medicines from any online pharmacy and get it delivered quickly at your doorsteps.
Healthy tips to manage and reduce stress:
Exercise:
It is the most recommended physical activity by any doctors. Just a few minutes of walk or any other physical activity can show wonders by bringing down your stress level. Exercise produces endorphins a chemical in the brain. It is a natural pain killer which improves your sleep and relives your stress.
Healthy eating:
Diet plays a key role to fight against stress.  In our busy schedule following a healthy diet is a major challenge. We often dine out and prep on unhealthy foods. In order to see the cascading effects build a healthy nutritious diet and follow it regularly. Including foods rich in omega 3 fatty acids and folic acid can ease your depression.
Keep smiling:
Just putting yourself on smiling or laughing face can ease your stressful events more easily. Laughing reduces the stress hormone cortisol and provides us with instant energy. It not only elevates stress but so it improves heart health.
Meditation:
Meditations have reaped numerous health benefits. It is a fast simple and easy way to wipe your daily stress. Spending very little time on meditation can restore inner peace and calm. So don't crowd your mind with negative thoughts, just follow a few meditation techniques and experience a beautiful tranquil mind!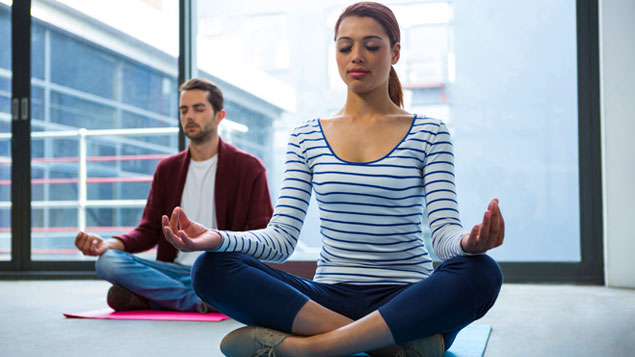 Take regular breaks:
It's difficult to stretch out from a long busy schedule. But a few minutes of break or a long vacation will definitely relieve your stress cycle and increases your productivity and creativity level too much higher heights. So always give yourself a short break to recharge your batteries!
Stress and strain can eat your brain! Daily demands in our life will never change. Challenge yourself and balance your life to manage stress in any difficult situation. Closely watch out your attitudes and habits to find the source for the stress. If you are unable to manage yourself then consider your next resource as either a therapist or psychiatrist can help you out to deal with it. Buy medicines online from any online medicine website at your convenience.
4 Essential Keys to Happiness as We Age
When we're young, many of us gain happiness from material gain; we line up for the latest devices, newest cars, or most fashionable clothes to feel content. But as we age, we realize that the joy we gain from objects can be fleeting. Many of the items we collect lose their emotional value. However, there are immeasurable things, like, experiences, that last forever and fuel our happiness well into our golden years.
Let's take a deeper look at some keys to happiness as we age:
#1 Good Health
Good health is essential to living a happy life for older adults.
While staying healthy as we age isn't a straightforward task, eating a balanced diet, living an active lifestyle, and visiting a family physician for regular check-ups can significantly improve anyone's quality of life.
That's why many older adults move to retirement communities that promote healthy living. For example, All Seniors Care Living Centres ensure that their residents have the right support systems, amenities, and programs to maintain a healthy lifestyle:
Professionally cooked delicious and healthy homemade meals and snacks for older adults.
On-site amenities and events that encourage active living.
Assistance from trained, courteous, and caring staff members.
Support systems that match the needs of residents.
Access to top physicians.
#2 Healthy Relationships
Strong relationships with friends, family and even pets can make us feelhappy and give us a sense of belonging. For example, there's nothing quite like laughing, sharing stories, or breaking bread with people in your community. In addition to happiness, positive social interactions can improve our lifespans, lower our risk of developing depression, and improve cognitive function.
Developing new friendships at any age can be challenging. But a great way to form new relationships is to live in a community of like-minded people from backgrounds.
#3 Positive Experiences
As mentioned, having positive experiences is essential to feeling happy as we age. Sitting down with a loved one to watch the sunset, taking a walk in the nearby park with other members of the retirement community, or baking cookies for your friends are all examples of small but meaningful life experiences.
Older adults should also consider traveling. After years of working, raising families, and meeting obligations, many people finally have the time and freedom to explore the world and experience different settings.
Studies show that older adults who travel enjoy better mental and physical health. Travelers also get a chance to meet new people, try fresh things, and see interesting places.
#4 Finding Purpose
Finding purpose can bring joy and satisfaction, provide a sense of direction, and offer a positive outlook on the future. Activities such as volunteering, engaging in hobbies or discovering spiritual practices can help older adults develop a sense of purpose.
Many older adults with professional experience offer their services in mentorship programs to find purpose. Sharing skills and expertise to help younger people find their career paths can be immensely rewarding.
Although there are no one-size-fits-all answers, happiness is possible at any age. A sense of purpose and meaningful connections with others are two of the most important factors. Feeling physically, socially, and mentally healthy can also help older adults enjoy their golden years.