5 Tips to Manage Stress and Stay Healthy
The very common sentence we use in every second of our life is "Keep yourself calm and don't be stressed". But, many of us feel difficult to follow this mantra. Stress from the workplace, relationships, family, etc. can leave you crazy and at times out of control to manage the situation. Occasionally wrapping yourself under pressure is good during your exams or while on work deadlines as it stretches you with energy to complete it effortlessly. But, too much of stress can lead to health consequences like hypertension, increase heart rate, anxiety, depression, overeating, obesity and also it affects the immune system, central nervous system and cardiovascular system.
To keep our anxiety under control let us incorporate a few tips that can help us to manage stress and to stay fit and healthy! If you are severely stressed consult your health care provider. He can prescribe medications to help fight back your stress level. Now search your prescription medicines from any online pharmacy and get it delivered quickly at your doorsteps.
Healthy tips to manage and reduce stress:
Exercise:
It is the most recommended physical activity by any doctors. Just a few minutes of walk or any other physical activity can show wonders by bringing down your stress level. Exercise produces endorphins a chemical in the brain. It is a natural pain killer which improves your sleep and relives your stress.
Healthy eating:
Diet plays a key role to fight against stress.  In our busy schedule following a healthy diet is a major challenge. We often dine out and prep on unhealthy foods. In order to see the cascading effects build a healthy nutritious diet and follow it regularly. Including foods rich in omega 3 fatty acids and folic acid can ease your depression.
Keep smiling:
Just putting yourself on smiling or laughing face can ease your stressful events more easily. Laughing reduces the stress hormone cortisol and provides us with instant energy. It not only elevates stress but so it improves heart health.
Meditation:
Meditations have reaped numerous health benefits. It is a fast simple and easy way to wipe your daily stress. Spending very little time on meditation can restore inner peace and calm. So don't crowd your mind with negative thoughts, just follow a few meditation techniques and experience a beautiful tranquil mind!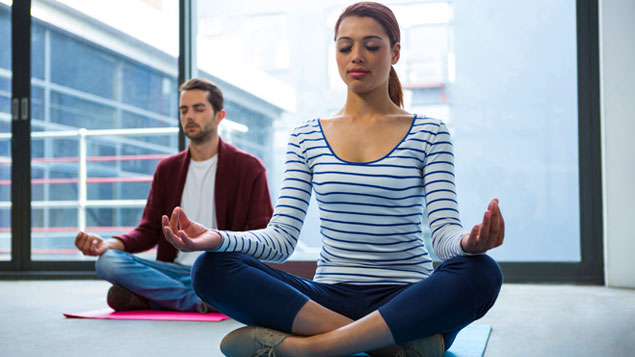 Take regular breaks:
It's difficult to stretch out from a long busy schedule. But a few minutes of break or a long vacation will definitely relieve your stress cycle and increases your productivity and creativity level too much higher heights. So always give yourself a short break to recharge your batteries!
Stress and strain can eat your brain! Daily demands in our life will never change. Challenge yourself and balance your life to manage stress in any difficult situation. Closely watch out your attitudes and habits to find the source for the stress. If you are unable to manage yourself then consider your next resource as either a therapist or psychiatrist can help you out to deal with it. Buy medicines online from any online medicine website at your convenience.
10 Unbeatable Qualities of Best Mattresses for Seniors
Choosing the right mattress for the seniors in your family is a crucial decision. You need to take into account several aspects before finalizing a product. The reason why it is a critical decision is the fact that different people have different set of requirements. Apart from the seniors in your family, there could be other people who might suffer from frequent and chronic pains in their shoulders, neck, hips, back, and other areas of the body. According to a survey, more than half of seniors, living on their own, suffer from constant chronic pain, while 80% of seniors living in nursing homes also experience such chronic pain. For such individuals, it is crucial to sleep on a surface that gives them support and comfort, so they can have a healthy and analeptic sleep.
Today, the companies design mattresses that help align the spine and relieve pain and pressure points in sleepers. However, there are also other mattresses that offer little to no comfort and might cause aches and pain. Before purchasing the mattress for seniors and the ones dealing with chronic pains, here are 10 qualities that you should always look for.
Ease of Movement
Many seniors, who experience chronic pain, have to roll over or adjust their sleeping position throughout the night to feel comfy. However, if the mattress does not provide them ease of movement, it can worsen pain or disturb sleep. The individuals, who are restricted to beds, can benefit from the medical air mattress, which has unparalleled qualities. It is excellent for people who are overweight and are confined to a bed. It works best for the prevention and treatment of pressure sores. The pressure on parts of the body from long periods in bed create bed ulcers (pressure sores or bed sores or pressure ulcers). Medical air mattress not only prevents pain but also encourages ease in mobility and comfort.
Edge Support
Most mattresses develop sinkage along the boundary where people sit when they are getting in and out of bed. With time, this sinkage can alter the shape of the mattress's surface and weaken its supportive qualities. It is recommended to look for a mattress that is reinforced along the edges so the sinkage is less and the surface remains flat and even for the users.
Price
Budget is an important thing to consider when looking for a good mattress. Buying a top-quality mattress is a major investment. On an average, you can find a queen-sized innerspring or memory foam mattress in or around $600. The prices are even higher for other options, such as latex and hybrids. Your mattress budget depends on your household, but most seniors live on a fixed income which can restrict them from buying a high-end mattress. Similar is the case with the people who have to spend longer hours on the mattress due to their medical conditions. They already have to spend a huge sum on their medical treatment and investing in a mattress can turn out to be another major expense. However, it is not necessary that only a really expensive mattress will be good in quality. You should conduct a research about your needs before purchasing a mattress, which would keep you from wasting your money on the wrong mattress.
Support
When looking at mattresses, you might have come across the term 'mattress support'. It refers to stability and sleeping surface of a mattress. A mattress that offers support will keep the sleeper's body at a maintained level and will also help in relieving back pains. On the flip side, an unsupportive matters with time usually sags in the middle creating an uneven surface that can cause pains or worsen the existing ones. Such mattresses can also hinder the alignment of the spine. A mattress which sags less than one and a half inches can be uncomfortable, but if it sags more than that then it can cause great amount of pains and pressures on the sleeper's body.
Conforming and Pressure Relief
A mattress that conforms closely is a great quality because it creates a mold-like impression around the contours and curves of the sleeper's body helping them in spinal alignment, relieving pressure points and providing even support to the entire body. Whereas, mattresses that do not conform at all or just in some areas, give the sleeper an uneven sleeping surface that causes pain and increases pressure in sensitive parts of the body.
Firmness Options
Firmness of the mattress goes side by side with support. If a mattress is either too soft or too firm, it will not give the sleeper the right support they need for a good night's sleep. You need to consider a number of factors when it comes to firmness options of mattresses. The leading factor should be the weight of the sleeper. Heavyweight individuals find medium firm mattresses the most supportive, whereas light weight individuals choose soft or medium soft mattresses. Sleeping positions are also important to determine the ideal firmness, some people sleep on their back, a position which naturally aligns the spine. Such individuals should look for a mattress that provides level support, and evenness in particular areas where their weight is concentrated. Other sleep positions, like sleeping on the side, or on your stomach do not align the spine. There are few mattresses that offer multiple firmness options to accommodate the sleepers with their choices. Similarly, there are dual firmness designs with different sleeping positions that are ideal for couples. Moreover, there are flippable designs that allow the users to adjust the firmness by rotating the surface.
Durability
An average good quality mattress, regardless of its design, lasts for about six to seven years. Different types of mattresses have different lifespans, for example, innersprings and poly-foam mattresses last for a shorter period and begin to sag and feel uncomfortable in just two or three years. Latex or airbeds can last for more than eight years, but airbeds are prone to impairment and breakdown. It is advised that you should replace your mattress, irrespective of its type, in every seven to eight years. You will find companies offering 20 years warranty or even longer, but it's nothing more than a marketing technique. Today, most of the mattresses come with a 10-year warranty which is quite sufficient.
Motion Isolation
Motion transfer can cause disturbance in a person's nighttime sleep, especially if a couple shares a bed. Motion transfer usually occurs when someone changes position in bed or gets in or out of it. Seniors usually have to get out of bed several times during the night to use the washroom or get a snack or water. If two people share the bed, this can be a great problem. This is where mattress isolation comes in use. The mattresses with this quality can absorb the motion transfer and stop it from spreading to other areas of the sleeping surface, causing less disturbance during the night.
Temperature Neutrality
Many individuals sleep hot naturally, and some seniors have side effects from medication which affect their body's sleep temperature. A mattress with temperature neutrality is neither too cold nor too warm, it is made to provide the sleeper a comfortable surface throughout the night. Mattresses that have thick foam layers tend to sleep the warmest as the solid foam absorbs and traps body heat, and mattresses with coil layers like hybrids and innersprings tend to sleep cooler because the air circulation between the layers is better.
Noise
Squeaks and creaks from mattresses are one of the biggest reasons behind sleep disturbance, especially for people who share their bed with another individual. Hybrid and innerspring mattresses make the most noise because of their steel components whereas airbeds with electric systems also create a lot of noise. However, latex and foam mattresses are quite silent as compared to other types.