Adapting Resilient and Scalable IT for Stable Business Growth
Today, Information technology has become a foundation of anything that is created for business or ease of life. Whether you want to explore better ways for business workflows, engage your clients, or boost the company's growth, ensuring that you have a resilient foundation confirms that you are to unveil fruitful opportunities and capturing potential business values.
It is for the above-mentioned reasons, more and more entrepreneurs now invest in resiliency, scalable information technology solutions to adapt to the ongoing and ever-growing demands of clients.
Critical business service operating model
Based on industry-standard business operating practices, a common model can be developed.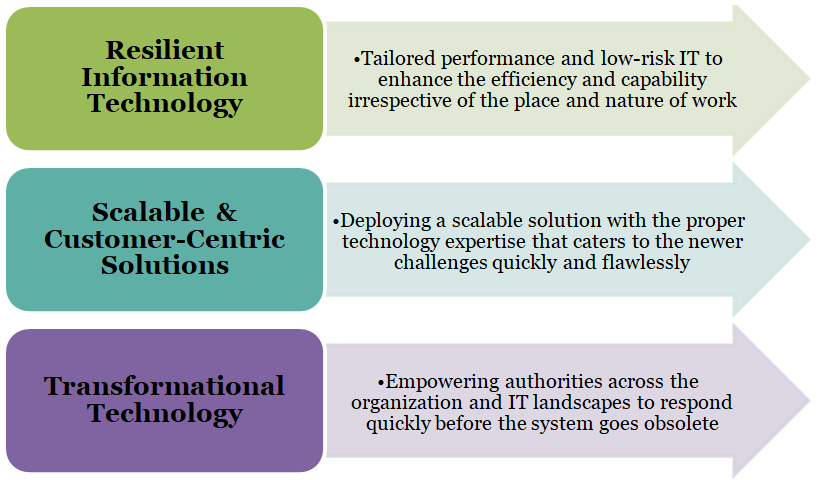 Today's market and customers – volatile, transforming, and fragile
The market volatility today has been coupled with business and technology disruption that ultimately becomes challenging in catering to client's fast-changing demands and workforce stability. The organizations, for this very reason, look for resilient information technology solutions. In other words, enterprises today have their sleeves up for unforeseen scenarios because they have anticipated and prepared to respond to challenges swiftly and with agility.
Businesses with no resilient strategies in place thrash about operational and managerial performance impediments, which, in turn, bring in disruptions. According to a survey, more than 90% of IT leaders opine that they have felt such a scenario.
Lately, it has been observed that enterprises have started to actively invest in making their software up-to-date by transforming their obsolete systems. They also invest in making their workforce adaptive to take up the challenges in the usage and integration of the newer systems which are innovation-inspired.
Stability by dint of unshakable determination
In the market are available some operational models that render resiliency by making companies capable to perform even in adverse times. Based on best industry practices, enterprises can use technologies and frameworks that bring in transformation by enhancing IT resiliency and adaptableness.
An ideal model to render a resilient business
Following is an ideal resilient business model recommended by industry and technology experts.
Resilient Information Technology
The model can be augmented with a specially designed multi-tiered lifecycle management system so that any-size enterprise can quickly respond to technology or market hurdles. When the workforce is adaptive, accessing, and detailing business analysis and insights become feasible. Such a transformation can strengthen the infrastructure of the company and amalgamate its goals with emerging business dynamics.
How businesses can achieve optimum resiliency?
Enterprises should opt for calculated risk and step forward carefully. Here are a few steps observed and advised by industry gurus to reach an optimum level of resiliency.
Focus: focusing on processing, designing, and operating the industry-standard best practices would render an improvement in stability, capability, and availability.
Identify: identifying the root causes and alleviate the risky factors to curb recurrent systemic challenges would help you improve overall performance.
Expertise: having expertise at the helm of improving and restructuring business strategies is a sure shot to achieve resilience. AI/ML-powered tools and technologies come as a great rescue.
How to make the workforce adaptive to change?
It is paramount to any organization that the workforce is adaptive and flexible in getting in sync with big transformations, the complexity of projects, and unforeseen scenarios including unusual escalations. According to a report, over 75% of enterprises don't find the expertise easily. Experts in AI, ML, AR, VR, network operations, and cyber securities are in great demand; furthermore, these experts should be employed to have instant help in critical cases.
Domain experts can regularly conduct a workshop to enhance the rest of the staff in their cognition and hold on to the subject. Such experts can also help the company in data-driven methodologies and can analyze whether or not your IT models are scalable, at risk, broken, or require drastic amendment.
Forrester, a well-known research and stats company, says that organizations with great adaptability can witness thrice the pace in revenue growth as compared to stubborn companies with obsolete systems resisting the change.
Transformation in IT is the only solution to the constant change
A well-known case study of the University of Maryland Medical System demonstrates that transformative information technology is the only solution to the fast-paced change in market or customer demands. The university sought an instant, though temporary, set up to connect all of its field hospitals to handle a huge flow in hospital admissions. In less than a week, they had a renowned IT company at the helm of the project and connected nearly 30000 employees across over a dozen hospitals and thousands of houses. The system they used were powerful networking technology, integrated network security, and deployment guidance.
The transformation in IT infrastructure helps organizations drive through difficult and challenging times such as constant market change, unforeseen downturn, unprecedented pandemic, and many more industrial impediments. Having the right talent and expertise at right time at the right place can help you create and capture newer opportunities by curbing all the hassles you face in running businesses.
Technology – As a helping hand
In such situations having a professional IT service providing company as your partner can be a blessing. We have helped many enterprises transform into better resiliency by enhancing adaptability through contemporary tools and technologies. Multi-tiered solutions that are tailored to your business objectives can do wonders and make your business foolproof and challenge-resistant in coming years of cutthroat competition and market uncertainty.
The above image marked in yellow also has a similar text.
5 signs it's high time for your business to get new office furniture
The office is the face of the entire company, because negotiations with clients, partners, suppliers, sponsors are held here. Therefore, office furniture should provide a complete comfort and safety atmosphere.
Moreover, furniture directly affects the performance of employees. Your college will hardly show good efficiency if he thinks about an aching back all day.
Today we will consider several clear signs that it's time for your furniture to be improved or changed.
#1. Shady outer look
Perhaps this is the most evident reason to dispose of such furniture. However, many office workers continue to fearfully sit down at their workplaces, hoping that it won't fall apart today.
On average, office furniture lasts 8-10 years. But if you see humps and depressions on the surface of office chairs, and it's painful to sit on them, you need to change it right away. A new piece of furniture will cost less than paying sick leave for your employees.
#2. Too simple furniture
We continue to talk about office chairs. Experts say that chairs without armrests, seat padding, backrest adjustments, and castors are a true office disaster.
First of all, there is a lack of lumbar support, pressure on the discs of the lower back, excessive shoulder and muscle strain.
Sitting in the wrong chair for hours can lead to severe postural distortion and damage to the back, neck, and shoulders.
#3. Black gloomy cabinets and tables
The color of furniture affects the mood, performance, and emotional well-being of the employee. Moreover, it inspires customers' trust, encourages cooperation, and sets up a productive dialogue.
For example, furniture of light shades assuages, erases boundaries, stimulates to achieve excellence, encourages honesty and fairness.
Dark brown tint is associated with nobility, stability, and luxury. Dark furnishings help to focus, increase physical endurance, stress resistance, and self-esteem. Dark interior adjusts to teamwork, promotes constructive negotiations.
Bright shades invigorate, improve activity, fill with energy and strength, help to highlight accents, and smooth out conflicts. But excessive brightness can cause aggression and intolerance, so know the limits.
Try to avoid one color. It's better to engage 2-3 tones. Check out the ideas gallery on the Office Furniture Warehouse website for balanced combinations.
Choose office furniture in a muted neutral color (for example, gray), making it brighter with contrasting elements and decor.
#4. Angular asymmetric furniture
Furniture manufacturers today offer a huge number of different forms: square, oval, round, rectangular. If you still have angular tables, drop them. According to psychologists, it has a positive effect on employees' performance.
Rounded corners can already be considered an industry standard, not a fashion trend. They are not only pleasing to the eye but also facilitate the perception of information. Therefore, seeing documents or other objects on such a table, the brain will potentially be drawn to processing them.
Also, throw away all asymmetrical pieces of furniture: for example, huge cluttered shelves hanging over workplaces will cause subconscious feelings of anxiety and reduce the performance of staff.
#5. Motley style
Most people think that the so-called corporate style is a logo of a characteristic color. But today it's being introduced into office interiors as well.
It's important to choose a single furniture style – classic, minimalist, hi-tech, etc. Therefore, if one table in your office is single-seated green-red, and next to it stands a chic black glass desk, both employees and clients will get the feeling of being in the flea market.
If you want to avoid this, sell all the motley furniture and buy everything in the same style.
Final words
Most often decreased employee productivity and a toxic office environment can be associated with the furniture that casts a blight on workers' life.
Consider not only an appealing look but also furniture ergonomics. Focus on the needs of employees, their parameters. Pay attention to fabric and upholstery. It must be durable, water-repellent, and stain-resistant. And never try to save on furniture: remember, you always get what you pay for.