Adapting Resilient and Scalable IT for Stable Business Growth
Today, Information technology has become a foundation of anything that is created for business or ease of life. Whether you want to explore better ways for business workflows, engage your clients, or boost the company's growth, ensuring that you have a resilient foundation confirms that you are to unveil fruitful opportunities and capturing potential business values.
It is for the above-mentioned reasons, more and more entrepreneurs now invest in resiliency, scalable information technology solutions to adapt to the ongoing and ever-growing demands of clients.
Critical business service operating model
Based on industry-standard business operating practices, a common model can be developed.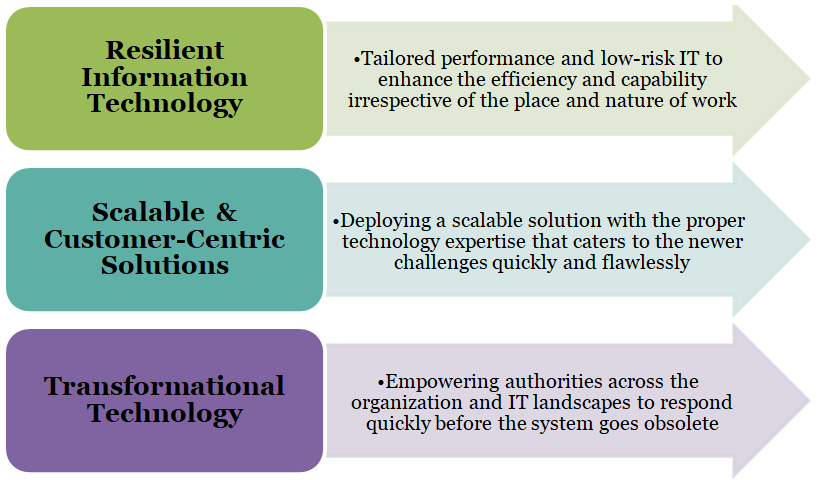 Today's market and customers – volatile, transforming, and fragile
The market volatility today has been coupled with business and technology disruption that ultimately becomes challenging in catering to client's fast-changing demands and workforce stability. The organizations, for this very reason, look for resilient information technology solutions. In other words, enterprises today have their sleeves up for unforeseen scenarios because they have anticipated and prepared to respond to challenges swiftly and with agility.
Businesses with no resilient strategies in place thrash about operational and managerial performance impediments, which, in turn, bring in disruptions. According to a survey, more than 90% of IT leaders opine that they have felt such a scenario.
Lately, it has been observed that enterprises have started to actively invest in making their software up-to-date by transforming their obsolete systems. They also invest in making their workforce adaptive to take up the challenges in the usage and integration of the newer systems which are innovation-inspired.
Stability by dint of unshakable determination
In the market are available some operational models that render resiliency by making companies capable to perform even in adverse times. Based on best industry practices, enterprises can use technologies and frameworks that bring in transformation by enhancing IT resiliency and adaptableness.
An ideal model to render a resilient business
Following is an ideal resilient business model recommended by industry and technology experts.
Resilient Information Technology
The model can be augmented with a specially designed multi-tiered lifecycle management system so that any-size enterprise can quickly respond to technology or market hurdles. When the workforce is adaptive, accessing, and detailing business analysis and insights become feasible. Such a transformation can strengthen the infrastructure of the company and amalgamate its goals with emerging business dynamics.
How businesses can achieve optimum resiliency?
Enterprises should opt for calculated risk and step forward carefully. Here are a few steps observed and advised by industry gurus to reach an optimum level of resiliency.
Focus: focusing on processing, designing, and operating the industry-standard best practices would render an improvement in stability, capability, and availability.
Identify: identifying the root causes and alleviate the risky factors to curb recurrent systemic challenges would help you improve overall performance.
Expertise: having expertise at the helm of improving and restructuring business strategies is a sure shot to achieve resilience. AI/ML-powered tools and technologies come as a great rescue.
How to make the workforce adaptive to change?
It is paramount to any organization that the workforce is adaptive and flexible in getting in sync with big transformations, the complexity of projects, and unforeseen scenarios including unusual escalations. According to a report, over 75% of enterprises don't find the expertise easily. Experts in AI, ML, AR, VR, network operations, and cyber securities are in great demand; furthermore, these experts should be employed to have instant help in critical cases.
Domain experts can regularly conduct a workshop to enhance the rest of the staff in their cognition and hold on to the subject. Such experts can also help the company in data-driven methodologies and can analyze whether or not your IT models are scalable, at risk, broken, or require drastic amendment.
Forrester, a well-known research and stats company, says that organizations with great adaptability can witness thrice the pace in revenue growth as compared to stubborn companies with obsolete systems resisting the change.
Transformation in IT is the only solution to the constant change
A well-known case study of the University of Maryland Medical System demonstrates that transformative information technology is the only solution to the fast-paced change in market or customer demands. The university sought an instant, though temporary, set up to connect all of its field hospitals to handle a huge flow in hospital admissions. In less than a week, they had a renowned IT company at the helm of the project and connected nearly 30000 employees across over a dozen hospitals and thousands of houses. The system they used were powerful networking technology, integrated network security, and deployment guidance.
The transformation in IT infrastructure helps organizations drive through difficult and challenging times such as constant market change, unforeseen downturn, unprecedented pandemic, and many more industrial impediments. Having the right talent and expertise at right time at the right place can help you create and capture newer opportunities by curbing all the hassles you face in running businesses.
Technology – As a helping hand
In such situations having a professional IT service providing company as your partner can be a blessing. We have helped many enterprises transform into better resiliency by enhancing adaptability through contemporary tools and technologies. Multi-tiered solutions that are tailored to your business objectives can do wonders and make your business foolproof and challenge-resistant in coming years of cutthroat competition and market uncertainty.
The above image marked in yellow also has a similar text.
Startup Business Ideas Post Covid-19
It's been more than a year since the world is going through this tough time. The arrival of Covid-19 has completely changed the way of the regular process right from business to education. This has created such unforgettable losses to several industries. The pandemic has made many of the business owners clueless. There are many who have lost their jobs and facing nervousness thinking about their future.
As the situation is now resting, it's time to find a way to accept the situation and adopt the changes. We have to begin with the new idea as the world is resuming to this. In the coming time, the online platform is going to have heavy traffic. Many of the businesses are now growing on the online platforms, what makes them grow faster and unique is their respective custom labels. Custom labels on your product make them extraordinary and help a lot in advertising. Starting your business online will definitely be a win-win situation for you. To start a new business along with the pandemic is the only golden way to make use of the situation. You have to embrace yourself in such a condition and make yourself comfortable with the chances.
Thereof number of ways to start your new business: Start making custom labels for brands, start a website development business, make an app and sell healthcare products, etc.
Here's what you should do to start your business staying at home.
Set a goal: The most important thing to start a new business is to look after the startup idea which you are most interested in. You should not be wrong in this step.
Look for its benefits: Make sure you find out the idea which you are thinking is going to be profitable for you. There's no point in starting up with something which is not going to give you any benefit.
Make it strong: Think of ideas to make it more robust.
Here are some Startup Business Ideas Post Covid-19
Custom Labels Business
A large number of products are entering every day, so it's important to stand out in the crowd and we need to get attention to our brand. Your product should be impactful and eye-catching. To do so, it becomes important to get an attractive label for your product. The better your product appears, the better result it gives.
What you can do to start up a new business is to start making custom label and personalized stickers for the brands. Approach to the companies and you can start selling custom labels for the brands. This is one of the innovative startup ideas you can think of.
The point to remember while starting with the custom label is, you need to know for what product you are making a custom label. After knowing the product you can look for the perfect size and material to use for making the label. Set a budget and be creative about designing the label. The label should be informative about the product, perfect tag line, and correct image and background color. Consider the visual appeal and design the custom label. Get more precise about the shape of the label, material, color, and text alignment.
Become a Freelancer
Freelancers are the person who works for themselves and not for the company or organization. You don't need to go to the office, you are under the control of any boss. You just have to search for clients and work for them.
Firstly define your services, what are you best at and what you will be able to do for the clients.
Here are some freelancing Start-up Ideas:
Content Writing: A content writer writes content for the website, blog, or articles. According to your preferences, you can choose your area of interest and start writing on it. You get paid for the content you write. You can also buy a domain and start writing blogs on your own website.
Social Media Marketing: In this era of social media awareness, advertising the brand on social platforms is something every business owner needs. If you have skills and knowledge about social media marketing, you can search for such small business owners and ask them to help them advertise their services.
Start Fitness & Wellness App
As the Covid-19 arrived, everyone got more aware of their physical and mental health. Staying home and increasing immunity power with exercises has become the new normal for many of us. After hitting covid-19 everyone want's to stay safe, stay healthy, and stay fit. To maintain the perfect balance everyone's trying to work on their body and utilize this time to make their body the way they want. As the gyms are shut off, the only way to take fitness classes is from an online medium. The covid-19 pandemic has fueled the rise in the fitness and health sector.
Many people have started giving online classes on wellness and health which has lead to sudden bloom in the health industry. You can start taking tips from yoga trainers and gym instructors and start using them in your online training period. Get an app developed and create a custom label that can define your services. This startup Idea is anyway going to make you a worthy start. As every age group is now interested in maintaining their health, most of them take the help of online yoga and exercise courses.
Website designing business
We all know every small and large business is closed during the lockdown. To find another way to keep running the business is to start it online. Many of the business owners have shifted their business to the online platform. Website is something which becomes important if we are starting our business online. Business owners are in search of someone who can help them make a website for their business. So to start this business in this period is the best idea to make money. Search for small brands, communicate with them, get to know about their services and products, and develop a website. Increase your network on social sites to find more clients. Provide valuable services and gain more profit.
Starting an On-demand Cleaning Services
The fear of Covid-19 has made everyone aware of hygiene and cleanliness. Everyone wants to be surrounded by safe and healthy spaces. This gives an amazing idea to start up a new business of cleaning services. Making an app and promoting it will surely give a rise in business in this covid situation. Make a custom label for your service to make it stand out in the crowd. It is seen that there is about a 95% increase in the demand for cleaning services. There are high inquires from hospitals and medical care centers for cleaning services. Restaurants, schools, and colleges are now reopened after a long break, so they are in need of cleaning facilities. Finding such cleaning services through the app is an easier way to approach big organizations and hospitals. Looking up to this idea will definitely going to help you in making a good start of a business.
Launch Online Home Service Business
As most of the shops and industries are closed, everyone is working from home. Because of lockdown, homemade products are in high demand. There are many people who have started home-based businesses and are relying on that. You can start your home service business which can be done by staying home and will give you profit as the home-based services are emerging in this Covid-19 pandemic.
Selling Healthcare Products
Homemade masks are in demand as there is a shortage in the stores. You can start this business with some investment and help people in such a tough time. Make an app, give it a name, make a custom label and showcase different varieties of masks and this business would anyhow make a big difference as there is a scarcity of face masks and protecting shields. You can also add on other products which are in high demand during this pandemic such as hand sanitizers. Printing the custom label of your brand on products will help in advertising your business.
Conclusion
Stay positive and don't lose hope. Think of the ideas which are easier to find in such a situation and are more likely to be used by people. Even the smallest business can help you grow by putting in the effort and some creativity. Your business can bring you more opportunities in the future. Try unique and innovative ideas to make your business more stable. Make this lockdown a period to learn new things and have self-progress. Have patience, there is a number of startup ideas which you can think of.