New PAW Patrol Line of Kids' Drinks to Keep Youngsters Healthy & Hydrated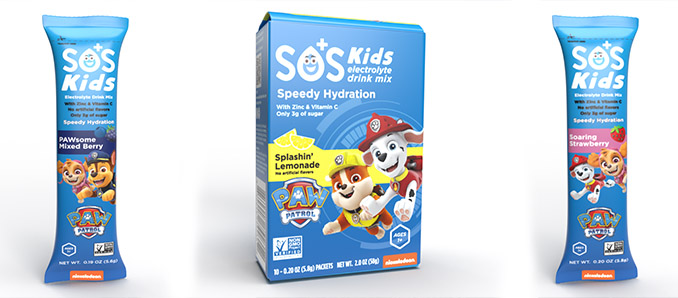 As we head into fall and go back to school, it's more important than ever to carry on with healthy hydration habits from the long, hot days of summer. The human body is made up of 50 percent water, in order to achieve peak hydration needs, kids (ages 4 to 8) require five cups of water per day and kids (ages 8 plus) require 7 to 8 cups per day.
"Unfortunately water is not the most tasty or easy to drink liquid so often we substitute it with other things such as milk, sports drinks, OJ or fruit concentrates," says James Mayo, Co-Founder and CEO of SOS Hydration. "These substitutions offer some hydration benefits, but also come with excessive amounts of sugar and high calories that kids don't need. Just take a peek at the nutrition panels the next time you reach for one of these beverages. Many of these drinks disguise their contents on the front by clever marketing or small pack sizes but look at the truth panel on the side to see the amount of calories and also in many cases the amount of artificial ingredients. A carton of OJ or Apple juice can have 100 calories and a fruit concentrate pouch can have 60 with some cartons that call themselves honest still having a heaping of 40 calories and excessive sugar."
The next option for hydration you might consider are the water enhancing powders. Many of these products tout ultra hydration but, again, one would be wise to visit the nutrition panels first as they are often are loaded with artificial ingredients.  "Some electrolyte drink options for kids on the marketplace lead people astray with their 'organic' ingredients or 'physician recommended' but be wary of sugar, which is not the ideal product for kid's hydration," James warns.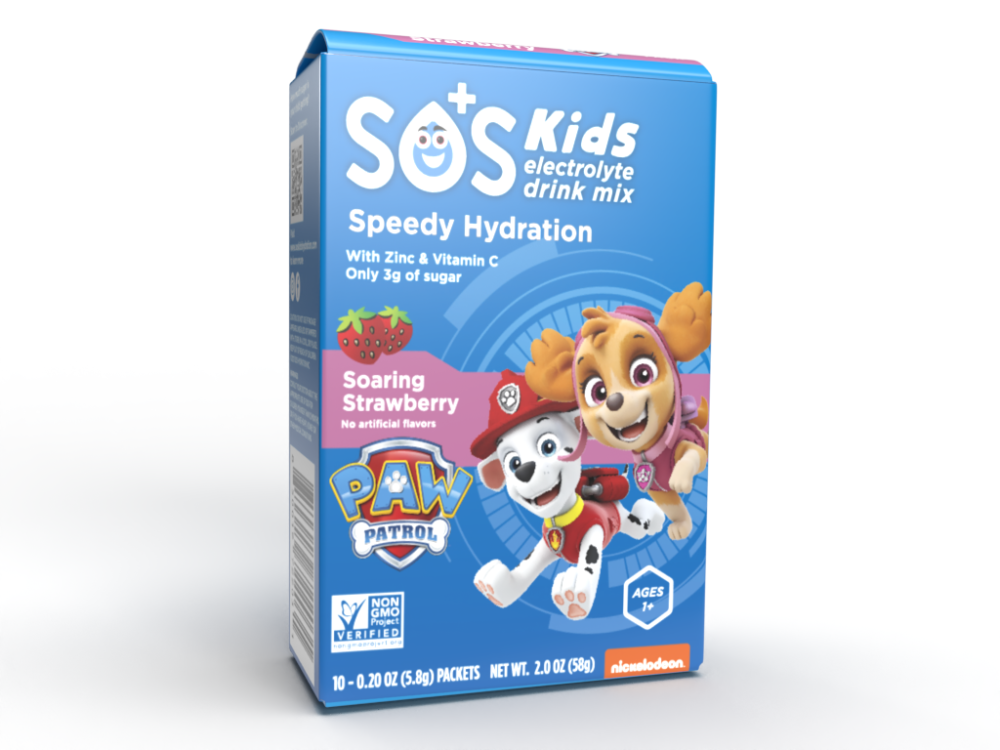 This truth led SOS Hydration to launch a healthier choice for kids' hydration: SOS Kids, featuring PAW Patrol. SOS Kids, now available at Walmart in-store and online, was specially-formulated for daily hydration by SOS Hydration Co-Founder and board certified Internal Medicine physician Dr. Blanca Lizaola-Mayo to help keep children optimally hydrated, and actually avoid becoming dehydrated in the first place—a condition that compromises the body and mind in a variety of ways. SOS Kids has only three grams of sugar in a 12-ounce serving; is boosted with Vitamins A and C, minerals Zinc and Magnesium; and contains no artificial additives—all designed to keep kids ahead of their hydration needs so they can perform better and get more from their days.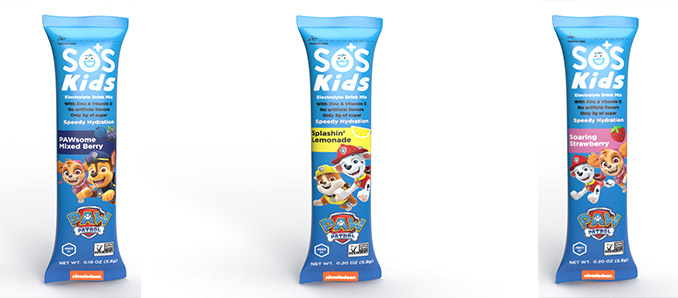 This launch coincides with SOS Hydration's first annual "National Family Hydration Awareness Month" initiative this September, during which the public is invited to visit www.SOSKidsHydration.com and learn about the physical, cognitive and emotional benefits of pre-hydrating to avoid becoming dehydrated. Ultimately, SOS encourages families to "follow the science" when it comes to choosing a hydration drink for their children, and also themselves, as families that hydrate together are sure to have more sustained fun for together. Sounds PAWsome to me!
~~~
Forbes Business Council Member Merilee Kern, MBA is an internationally-regarded brand analyst, strategist and futurist who reports on noteworthy industry change makers, movers, shakers and innovators across all B2B and B2C categories. This includes field experts and thought leaders, brands, products, services, destinations and events. Merilee is Founder, Executive Editor and Producer of "The Luxe List" as well as Host of both the "Savvy Living" lifestyle and travel and "Savvy Ventures" business TV shows. As a prolific business and consumer trends, lifestyle and leisure industry voice of authority and tastemaker, she keeps her finger on the pulse of the marketplace in search of new and innovative must-haves and exemplary experiences at all price points, from the affordable to the extreme—also delving into the minds behind the brands. Her work reaches multi-millions worldwide via broadcast TV (her own shows and copious others on which she appears) as well as a myriad of print and online publications. Connect with her at www.TheLuxeList.com and www.SavvyLiving.tv / Instagram www.Instagram.com/LuxeListReports / Twitter www.Twitter.com/LuxeListReports / Facebook www.Facebook.com/LuxeListReports / LinkedIN www.LinkedIn.com/in/MerileeKern.
***Some or all of the accommodations(s), experience(s), item(s) and/or service(s) detailed above may have been provided or arranged at no cost to accommodate if this is review editorial, but all opinions expressed are entirely those of Merilee Kern and have not been influenced in any way.***
Key Factors to Consider When Choosing Childcare
Deciding which childcare is best for your family can be a tough decision. Whether you choose formal childcare, family daycare, or in-home care, there are some basic things that you should know. To help make this all-important decision, we've talked to mothers and other experts who have been in the trenches of the childcare industry.
Here are seven ways to size up your choice!
– Child Development – Along with learning about the facility's policies and procedures, make sure to ask questions about each provider's training in child development. It is essential because you want someone who understands children at their different developmental stages. Also, be open to honest answers if you have specific questions about handling certain situations or behaviors that your child may exhibit.
– safety and security – making sure the facility is safe for your child should be a top priority when choosing childcare. you can do so by asking questions about safety precautions, such as what kind of locks are on the doors? what type of fence does it have around its playground area? how long has each staff member been with the center? has any staff been background checked?
– director's level of experience – the critical factor of afterschool daycare in San Antonio, TX, is its director. this individual manages all aspects of the program. so it helps to find someone who cares deeply about children and understands how they grow and develop–which often means seeking out an individual with a degree in early childhood education.
– child to staff ratio – when it comes to the child-to-staff ratio, you should seek out an environment where the staff can interact and give attention on an individual basis. it means that there shouldn't be more than ten children per caregiver during drop-off and pick-up times or more than fifteen children per caregiver during nap times.
– programs and activities – if you have specific goals for your child, then it might be helpful to find a provider that offers curriculum-based programs in areas such as literacy, math, science, arts & crafts, music composition, and performance. however, suppose you are less focused on your child reaching specific milestones. in that case, you might be okay with a more straightforward program that allows free play and self-directed activities.
– family involvement – look for a center where parents are encouraged to participate in their children's care by attending events, reading stories to the class, helping out around the facility. such as setting up the playground or cleaning up after snack time–and even volunteering to be a classroom assistant. it helps children feel more comfortable when dropped off in an environment with close relationships with their parents, other relatives, and caregivers.
– safety policies – child safety is your number one concern when it comes to childcare, so ask questions about the facility's policies and procedures. for example, does it have a policy in place to address medication administration? what is its accident/injury/illness protocol if your child becomes sick or injured at childcare?
 The Benefits of Afterschool Daycare San Antonio
suppose your school district or a local facility doesn't offer the afterschool program. in that case, it could be an opportunity for your child to meet new people.
if the activity is locally or at school, it may be a suitable method for your child to meet new people. afterschool program participants are more likely to feel involved and a member of a group. adult supervision is often more present in these programs than in playground time.
cooperation and respect are all promoted by a good program. it can make kids feel more at ease when they join a game. if they make a mistake, a coworker should tell them to take turns or stop interfering.
many afterschool programs offer homework help. this time can be beneficial for students who struggle with schoolwork at home. it will make the kid's evening more enjoyable if it gets completed after school.
Conclusion
to promote good eating habits and a healthy lifestyle, most afterschool daycare San Antonio, TX provides snack time and nap time. children are exposing to beneficial activities that keep them occupied while also assisting in the development of self-sufficiency.