5 Personalized Gift Picks Perfect for Your Valentine
Personalized gifts are always a stellar way to show someone the extent to which you care. Valentine's Day is perhaps the premier occasion to customize the expression of your affection. Here are five perfect gift picks sure to capture hearts this holiday, or any other.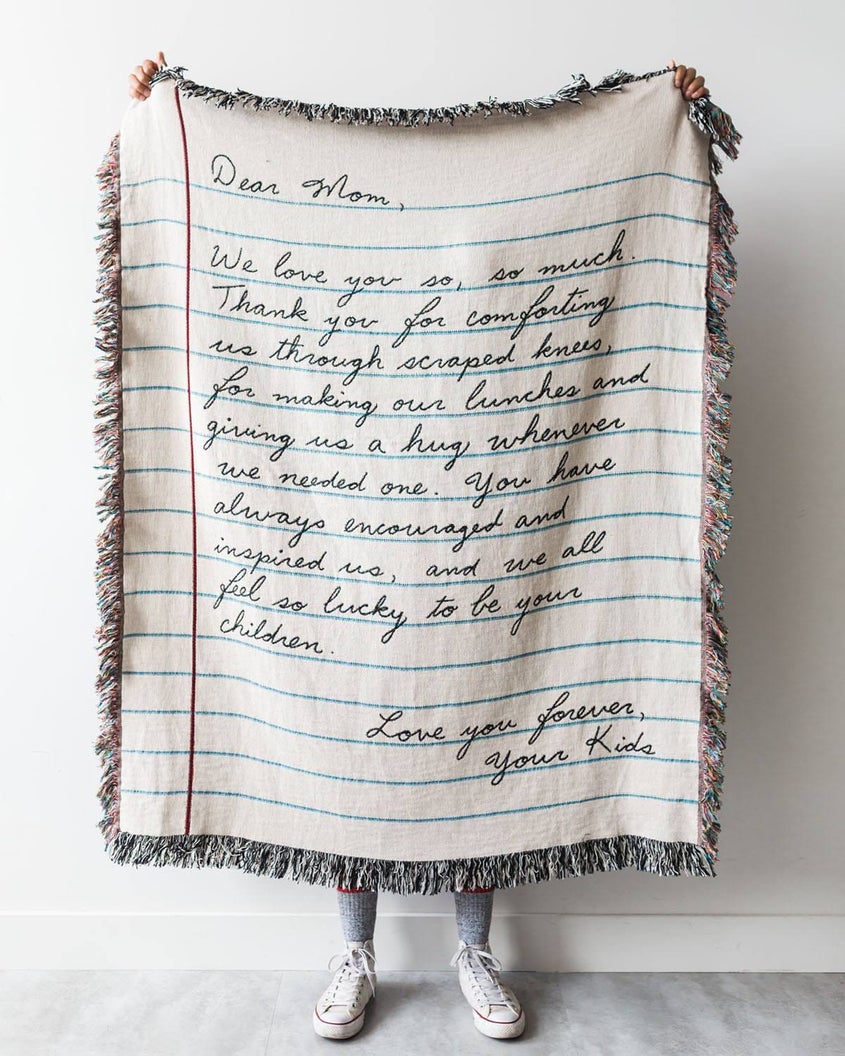 Love Letter Blanket from Frankie Print Co. (https://frankieprintco.com)
Tell someone how much you love them this Valentine's Day with a gift expressing your own words. This by writing a custom letter on a soft and cozy blanket that they can wrap themselves up in year-round. I absolutely adore the original Love Letter Blanket from Frankie Print Co. is a thoughtful and personalized gift that offers comfort and coziness with a special meaning. Made in the USA, this off-white/cream color blanket has red + blue lines that can be "written" upon as fully woven, not printed. Make it extra personal by using your own handwriting or keep it simple by using Frankie Print Co's cursive handwriting font. The Love Letter Blanket is 100% cotton, machine washable and comes in three sizes: 37×52, 50×60 or 60×80. Sold at Frankieprintco.com, Etsy and Uncommon Goods, the original Love Letter Blanket is the perfect Valentine's Day gift for your snuggle-seeking sweetheart. Make one for your spouse, children, grandparents, friends and others you care about.
Name a Star with Dedicated Stars (https://dedicatedstars.com)
What better way to show your love than naming a star after someone? Giving someone their own unique star is a special way to commemorate and celebrate loved ones, friends and even pets. Among others, it's a popular gift for Valentine's Day, birthdays, anniversaries and graduations.  Dedicated Stars offers you the option to name a star of your choice after the most special people in your life. It's an extraordinary way to make your loved one feel cherished. You can select between Classic, Zodiac and Binary star packages. The Classic package will let you name a rare and bright star, while the Zodiac gives you the option to select a star from any of the 12 Zodiac constellations, which is the most popular choice of all. Finally, particularly perfect for Valentine's Day, the Binary package is the absolute gift for couples. Binary Stars shimmer and are composed of two stars that orbit their common center. As part of your purchase, you get access to a planetarium platform, universe infographics and beautiful wallpapers for your computer. After selecting a package, you can custom name your star and receive a personalized certificate via email within minutes. Customize your certificate design among six beautiful options to commemorate your gift. If you wish, you can even add a personal message that will appear on the certificate. In addition, you can receive or send a high-quality printed version, with the option to have it framed. Dedicated Stars is a website that names stars after people (or anything you like)—a gift that really does last forever! Their journey started a while ago, in fact, possibly even several decades ago, when astronomers stopped naming stars and instead assigned each with a catalogue I.D. number. The Dedicated Stars team decided to start naming stars again and make them into exceptional gifts, registered on the star database forever.
BFF Butterfly Fingerprint Necklace from Love Talla (https://www.lovetalla.com)
Here is a unique Valentine's, or Galentine's, Day Gift you may not have seen before. The BFF Butterfly Fingerprint Necklace was created by Love Talla. With it, you can design your BFF Butterfly necklace with your own fingerprint on the top wing and your bestie's fingerprint on the bottom. Let the patterns of your fingerprints decorate the wings of your butterfly necklace to let your bestie (or your mother, daughter, sister and others) know that, like the beautiful patterns of the butterfly's wings, they left an incredible impact on your life. The best part is that these are breakaway necklaces, so when you two are apart you can always reach up and hold your best friend's hand. And when you are finally together the two halves of the butterfly unite and you are whole again. These one-of-a-kind necklaces are such a perfect gift for the sentimental gift giver and they are very easy to create. Just take a picture of your finger and Love Talla can engrave the fingerprint right off the picture! These beautiful necklaces come in yellow gold, rose gold and silver colors with adjustable 16-18-inch chains. Love Talla creates custom fingerprint necklaces to help you celebrate life's most precious moments and cherished people. This jewelry helps connect you to those most important in your life, whether they are still with you or not, and enjoy the mark they have left on you.
Personalized Jewelry from JoyAmo Jewelry (https://joyamojewelry.com)
Nothing says "I Love You" like a timeless piece of jewelry customized just for that special someone. JoyAmo Jewelry is a premier personalized jewelry company that designs and manufactures personalized necklaces, bracelets, earrings and rings. JoyAmo aspires to make modern and trendy jewelry that tells your personal story with collections that are designed to celebrate love, family, life, friendship, graduation, baptism and other milestone occasions. JoyAmo wants to be part of all your unforgettable moments through the uniqueness of all its handcrafted pieces. When you gift a custom-made piece of jewelry, you are giving something that only this person can wear. If you want to celebrate Valentine's Day with a jewel that will represent your endless love, check the lovely collection of couples' personalized sets of jewelry that you can customize from the metal to the engraving. You can choose her favorite metal, whether she loves sterling silver 925, 18-karat rose gold plating or yellow gold plating. JoyAmo also offers men's customizable bracelets and jewelry as well.  You can also engrave names, a meaningful word or an important date, and you can even add your respective Swarovski birthstones. All JoyAmo pieces come in a lovely gift box and each item has a one-year warranty.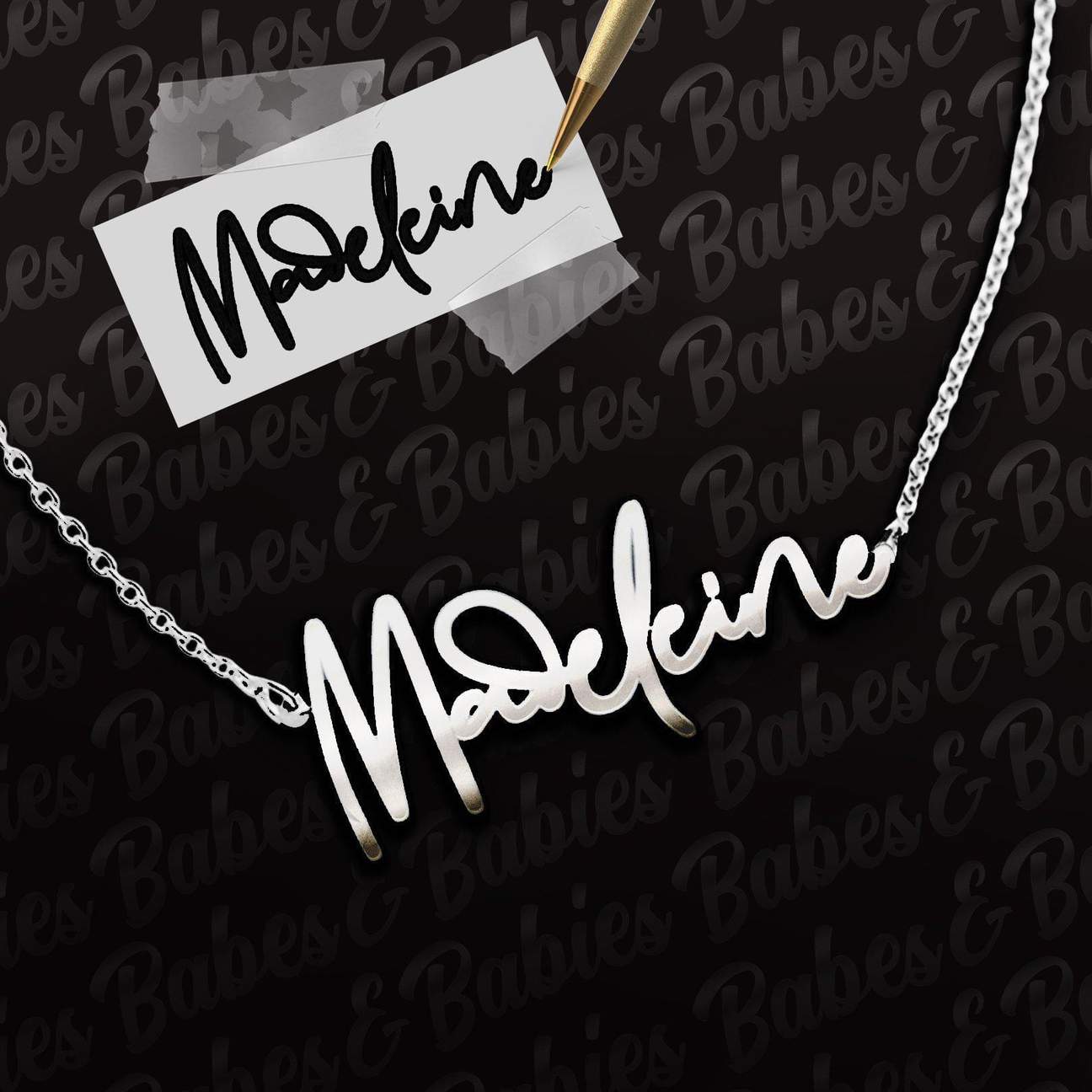 Actual Handwriting Name Necklace from Babes & Babies (https://babesandbabies.co)
A personalized gift is a perfect way to show that special someone in your life how much you love them. The Babes & Babies' Actual Handwriting Name Necklace is a stunning heartfelt, custom option to gift oneself or a special loved one. Simply crisply photograph a name or word and upload the photo to the respective Babes & Babies' product page. Choose a name – such as your own name, a kiddo's name, significant other's name, a pet's name – or even a name or word from an old note, letter, drawing – whatever is meaningful to you or your lucky giftee! The Actual Handwriting Name Necklace is an outstanding accessory because it is far more than just jewelry: it's a top-quality representation of love, immortalized. Babes & Babies' handwriting necklace is one-of-a-kind and luxury that is in reach. Choose from various chain sizes and colors to perfectly compliment the style and personality of the one you love. Another great option to share your love is this Hug Ring also from Babes and Babies. This ring comes in gold or silver and is a small, but powerful, display of your love and adoration for that special someone in your life that will be with them even when you can't be. Babes & Babies' is family-owned and women-led, operating out of central Texas. Pairing luxury with affordability, outstanding customer care is a mainstay atop helping immortalize memories within gorgeous jewelry.
~~~
How to Pick the Best School in West Bengal For Your Kid in 2023?
The educational landscape, as a whole, keeps changing with time. The same goes well with the state of West Bengal. A vast array of school options are available in the state, and it can be overwhelming to select one out of the lot. Finding the best fit that aligns with your child's unique needs, interests, and learning capabilities is paramount to boosting their academic and personal growth.
In this guide, you can find the essential factors to weigh the primary aspects in 2023 that the educational sector beholds. Learn how to select the best schools in Kolkata and the rest of West Bengal. Secure your child's educational future by discovering the perfect match with a few easy steps.
Factors to Look Out for When Selecting a School for Your Child
While choosing a school, one should keep a few primary factors in check. Here are the factors that can make a huge difference while selecting the best schools in Darjeeling and other parts of the state.
Location
The significance of location cannot be overstated when selecting the ideal school for your child. One of the most practical reasons to consider location is the daily commute. Opting for a school conveniently located near your home can significantly reduce travel time. It eases the morning rush and ensures your child arrives at school fresh and ready to learn. A shorter commute can also offer parents more time with their children, promoting a balanced family life.
Moreover, proximity to the school allows your child to participate in extracurricular activities and events frequently. Whether attending after-school clubs, sports practices, or parent-teacher conferences, being closer to the school ensures more accessible involvement in your child's academic journey. Further, it enhances communication and collaboration with teachers and other parents.
Curriculum
The second crucial aspect to consider is the school's offered curriculum. In West Bengal, you will find a diverse range of curriculums, including the Indian Certificate of Secondary Education (ICSE), Central Board of Secondary Education (CBSE), and West Bengal Board of Secondary Education (WBBSE). Each of these curricula possesses its unique advantages and limitations. So it is essential to conduct thorough research to pinpoint the most suitable school for your kid.
ICSE: This curriculum is regarded as an elite education board that strongly focuses on language acquisition, science, mathematics, and social studies.
CBSE: It is the most widely adopted board of education in the country. It is renowned for its keen attention towards mathematics and science, making it a most sorted choice nationwide.
WBBSE: This is a state-run board of West Bengal that primarily aims to shape every child's future in the state.
Teaching and Non-Teaching Staff
Another essential factor while selecting a school is considering the quality of both faculty and non-teaching staff. The teaching staff's qualifications, experience, and expertise are of utmost importance. Highly qualified and experienced teachers are better equipped to deliver effective and engaging lessons, catering to the diverse learning needs of students. Equally vital is the student-to-teacher ratio, as smaller class sizes often translate to more personalised attention and support for each student.
Apart from teaching staff, non-teaching staff contribute significantly to a school's success. Administrative staff, librarians, counsellors, and other support personnel are essential in ensuring smooth school operations. They significantly provide comprehensive support to students and teachers to keep the educational institution running in the heartiest way.
Infrastructure and Facilities
When evaluating the best schools in Asansol or anywhere on the lands of the Ganges, one crucial factor that should not be overlooked is the infrastructure and facilities offered by the institution. A well-designed and equipped school environment enhances the overall learning experience. It is a primary necessity to provide a scope for the holistic development of students.
When considering the physical infrastructure, scrutinise whether the classrooms are spacious, well-maintained, and safe. The physical space is a critical factor in creating a conducive learning atmosphere. The availability of specialised facilities is also essential. Look for schools that offer dedicated laboratories for science subjects, computer labs with up-to-date technology, and well-stocked libraries that encourage a culture of reading and research.
Sports and co-curricular facilities are vital for promoting physical fitness and extracurricular development. A school with playgrounds, sports fields, and facilities for other extracurricular activities can encourage students to participate in physical activities. It promotes a healthy lifestyle and provides a sound recreational space for the students.
Academic Performance
Assessing a school's academic performance is crucial in making an informed decision about your child's education. A school's track record in academic achievements reflects its instructional quality and the success of its students. One key metric is to assess their board exam performance, be it CBSE or ICSE, and look for the overall academic score of the students. Compare the subject scores with national and state averages. Consistently high scores indicate a school's dedication to imparting quality education and preparing students effectively. Choosing a school with a constantly excellent academic record helps in making wise decisions.
Fee Structure
It is not always true that the best schools in Kolkata and anywhere else have a hefty fee to be paid. One should stick to their budget while opting for a school as it is a long-term commitment and going beyond your limits can cost your child's future. Understanding the fee structure of a school is a crucial step in the decision-making process. It allows parents to assess the affordability of the institution and plan their finances accordingly. While comparing fees, one should consider the value offered in terms of educational quality, facilities, and extracurricular opportunities.
Transparent and well-structured fee policies help build trust between the school and parents, ensuring a smooth and hassle-free educational journey for the child.
Takeaway
Whether in West Bengal or anywhere else worldwide, a few factors hold the most importance while selecting an ideal school as a parent. By prioritizing your child's unique needs and learning styles, you can navigate various curricula, teaching staff, infrastructure, academic performance, and fee structures. Thorough research and open communication with schools will empower you to make an informed decision promoting your child's academic growth, personal development, and overall well-being. Remember, the ideal school ignites their passion for learning, provides a nurturing environment, and equips them with the skills and knowledge they need to win over the competitive academic world. So, choose wisely.
Excellence in Education: The Best IB Board Schools in Pune and Bangalore
The International Baccalaureate (IB) curriculum is renowned for its global perspective, academic rigor, and emphasis on holistic development. As the demand for international education grows, many cities in India have witnessed the rise of top-notch IB board schools. Pune and Bangalore, two prominent educational hubs, host several schools that offer the IB curriculum, catering to the diverse needs of students and parents. In this article, we will explore the best IB board schools in Pune and Bangalore, highlighting their distinctive features, academic achievements, and contributions to shaping well-rounded individuals.
Part 1: Best IB Board Schools in Pune
The Symbiosis International School
The Symbiosis International School is one of the leading IB schools in Pune, known for its commitment to academic excellence and comprehensive development. The school's approach focuses on fostering critical thinking, cultural understanding, and social responsibility. With state-of-the-art infrastructure and a nurturing environment, Symbiosis International School consistently ranks among the best IB schools in the region.
2. Mercedes-Benz International School
The Mercedes-Benz International School is another prestigious IB board school in Pune, offering the Primary Years Programme (PYP), Middle Years Programme (MYP), and Diploma Programme (DP). With a strong emphasis on creativity, innovation, and character development, the school strives to create compassionate and responsible global citizens.
3. Victorious Kidss Educares
Victorious Kidss Educares is renowned for its child-centric approach and emphasis on experiential learning. The school's IB programmes focus on inquiry-based learning, nurturing students' curiosity and problem-solving skills. Victorious Kidss Educares' commitment to the all-round development of students makes it a preferred choice for many parents.
4. The Lexicon International School
The Lexicon International School offers the IB Diploma Programme and prides itself on its student-centered pedagogy and supportive learning environment. The school encourages students to explore their passions and talents, fostering a love for learning and personal growth.
5. Vibgyor High International School
Vibgyor High International School in Pune provides a comprehensive IB education through its PYP, MYP, and DP programmes. The school is known for its strong emphasis on co-curricular activities, promoting a holistic development approach to education.
Part 2: Best IB Board Schools in Bangalore
The International School Bangalore (TISB)
The International School Bangalore (TISB) is a renowned name in the education sphere, offering the IB curriculum alongside other programmes. TISB provides a vibrant and multicultural learning environment, nurturing students' intellectual curiosity and critical thinking abilities.
2. Indus International School
Indus International School in Bangalore is known for its global outlook and focus on experiential learning. The school's well-rounded approach to education, coupled with state-of-the-art facilities, attracts students from diverse backgrounds.
3. Inventure Academy
Inventure Academy is celebrated for its innovative teaching methods and emphasis on fostering creativity and entrepreneurship. The school offers the PYP and DP programmes, providing students with a strong foundation for future success.
4. Greenwood High International School
Greenwood High International School is committed to academic excellence and holistic development. The school's inclusive and nurturing environment creates a conducive atmosphere for students to thrive.
5. The International School of Bangalore (TISB)
The International School of Bangalore (TISB) is another prestigious IB school in Bangalore. The school's dedication to creating socially responsible and globally aware individuals sets it apart as a leading choice for IB education.
Conclusion
The best IB board schools in Pune and Bangalore embody the spirit of academic excellence, global citizenship, and holistic development. These institutions prepare students to excel in an ever-changing world by fostering critical thinking, creativity, and a sense of social responsibility. Whether it's Pune or Bangalore, parents have the privilege of choosing from a range of outstanding IB schools that provide a transformative educational experience for their children. With a focus on nurturing well-rounded individuals, these schools continue to shape the leaders and innovators of tomorrow.
You can go to the website of Skoodos and look for various features and reviews of each of these schools and decide for yourself what to choose. Skoodos is a reliable online platform to help parents choose the best school for their children and bridge the gap between parents, teachers and school authorities. You must check their link to know more.
A Parent's Guide to Choosing the Right School.
As parents, one of the most significant decisions we make for our children is selecting the right school. The educational journey lays the foundation for their future success and personal growth. However, with the multitude of options available, the process can feel overwhelming. This guide aims to provide insights and strategies to help parents navigate the school selection journey, with a specific focus on CBSE schools. Read on! At the end of this guide, you can also find references to Top schools in Sushant Lok, or good CBSE schools in Gurgaon.
Understanding Your Child's Needs:

Every child is unique, and their educational needs may vary. Consider your child's learning style, interests, strengths, and areas that need improvement. A CBSE school, known for its structured curriculum and comprehensive approach, could be an excellent fit for children who thrive in a systematic and nationally recognized educational system.
Research, Research, Research:

Begin by researching schools in your vicinity. The internet is a valuable resource for gathering information about CBSE schools. Websites, virtual tours, and social media profiles can offer a glimpse into a school's facilities, programs, and overall ethos.
Academic Excellence:

CBSE schools are renowned for their emphasis on academic rigor and holistic learning. Look into the school's track record in terms of board exam results and achievements in various academic pursuits. A CBSE curriculum provides a solid foundation in subjects like mathematics, science, and language arts.
Visit the Campus:

While online information is useful, visiting the campus is essential. Observe the classroom environment, interact with teachers, and gauge the overall atmosphere. A CBSE school's structured teaching methods are often reflected in well-organized classrooms and focused teacher-student interactions.
Extracurricular Activities:

Remember that education is not just about academics. Extracurricular activities foster creativity, teamwork, and personal growth. CBSE schools offer a wide array of co-curricular and extracurricular activities, ensuring a balanced education that goes beyond textbooks.
Faculty Expertise:

Teachers play a pivotal role in shaping a child's educational journey. Look into the qualifications, experience, and teaching methodologies of the faculty. CBSE schools usually employ well-qualified educators who undergo regular professional development.
Parent-Teacher Interaction:

Effective communication between parents and teachers is vital. A CBSE school often emphasizes parent-teacher interaction, providing regular updates on a child's progress, strengths, and areas of improvement.
Infrastructure and Facilities:

Inspect the school's infrastructure, including classrooms, libraries, laboratories, and sports facilities. CBSE schools tend to provide modern amenities to support a well-rounded educational experience.
Diversity and Inclusion:

A CBSE school's diverse student body enhances cultural awareness and promotes tolerance. Check whether the school fosters an inclusive environment that respects and celebrates differences.
Value System and Ethos:

Consider the school's values and principles. A CBSE school often instills a sense of discipline, moral values, and a strong work ethic.
Travel Convenience:

Practicality matters. Consider the school's location in relation to your home or workplace. A nearby CBSE school can make the daily commute more manageable.
Financial Considerations:

Evaluate the school's fee structure, additional costs, and available scholarships. While a CBSE school's reputation may justify higher fees, ensure it aligns with your budget.
Feedback from Others:

Speak to parents of current students or alumni. Their insights can provide valuable information about a CBSE school's strengths and areas for improvement.
Gut Feeling:

Ultimately, trust your instincts. If you feel a connection with a particular CBSE school and believe it will provide the educational experience your child needs, it might be the right choice.
Concluding remarks – Find top schools in Sushant Lok and good cbse schools in Gurgaon

In conclusion, choosing the right school is a significant decision that requires thoughtful consideration. Research, visits, interactions, and a holistic assessment of your child's needs will guide you toward making an informed choice. Remember, education is an investment in your child's future, and selecting the right school is the first step toward ensuring their growth, success, and happiness. If you are searching for top schools in Sushant Lok, or Good CBSE schools in Gurgaon, please Visit this website.